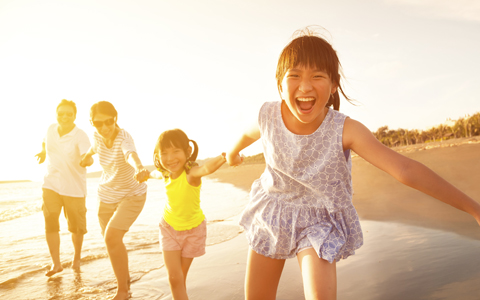 Taking care of your entire family's oral health shouldn't be difficult. At our office, Dr. Della Bella and our caring team offer services to make dental care for your family easier and more convenient.
Our cosmetic dentistry services are perfect for those wanting an improved smile.
Preventative services are helpful for all of your family members, but we specialize in helping athletes who need protection from sports injuries to the mouth or face.
Those with missing, decayed, or damaged teeth can benefit from our highly effective restorative dentistry procedures.
Cosmetic Dentistry
A beautiful smile can help create greater self-confidence. Our team wants you to feel your best! We offer cosmetic dentistry services to help improve your smile, whether you need to fill in gaps, brighten your teeth a few shades, or cover up irregularly shaped teeth. We offer safe and effective teeth whitening procedures, dental veneers, bonding, and more to create a radiant smiling you can be proud of.
Preventative Dentistry
Routine dental cleanings are key for preventing excessive decay or other damage to your teeth. Our team can eliminate buildup that can't always be removed even with careful dental hygiene done in the home. Our dental exams also allow us to catch dental issues that need to be fixed before turning into larger problems. The vast majority of dental disease can be prevented, but only through the consistent practice of the prevention methods.
Our general preventative treatments include:
Topical Fluoride.
Dental Sealants.
ViziLite Oral Cancer Examination.
Occusal Guards.
Athletic Mouthguards.
Routine Dental Cleanings and Maintenance.
X-Rays, Checkups, and Oral Hygiene Instruction.
If you have an athlete in your home, we strongly suggest fitting him or her with a custom mouthguard to help prevent injury to the mouth or face. Our appliances are highly effective at keeping patients safe during physical activity.
Restorative Dentistry
Have you been struggling to eat because of a missing tooth? Does a damaged tooth cause you pain or discomfort? We provide restorative dentistry services to bring you back to full oral health. We offer dental crowns, bonding, bridges, and implants. Our team will help determine which type of restoration would be most appropriate for your specific situation.
Call Us Today for Great Dental Care for All Your Needs!
Come see our experienced team today to get the dental care you and your family need! We are happy to offer a number of services to help with any of your dental needs.