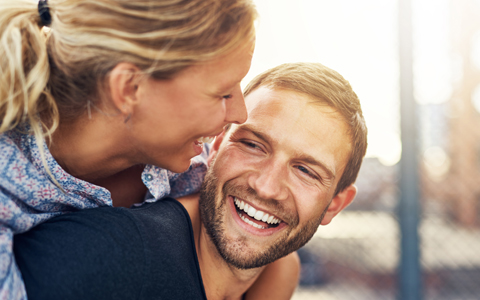 Would you like to make improvements on your smile? Porcelain veneers are a great option to provide the dramatic change you want. Dr. Alexander Della Bella offers beautiful veneers to help you achieve the bright, straight smile you've always wanted.
Are Veneers for Me?
Veneers are very thin porcelain shells that are bonded to the outside of your teeth. A veneer can be used to improve just one tooth or a set of veneers can create an entirely new smile.
Veneers may be right for you if you have any of the following aesthetic issues:
Severe tooth discoloration.
Misshapen teeth.
Broken or chipped teeth.
Worn teeth.
Large spaces between teeth.
Small teeth.
What Are the Advantages of Veneers?
The most obvious advantage of obtaining veneers is the aesthetic improvements they can make. Porcelain veneers are stain resistant and appear natural, so they should be hardly noticeable to others. Veneers are also safe for your mouth, and they are typically tolerated well by the gums.
A little bit of your enamel will need to be removed before veneers are placed on your original teeth, but this procedure is one of the least invasive cosmetic procedures available.
How Does the Process Work?
If you think veneers may be the right option for you, come see our talented team for a consultation. We can help determine if veneers could offer the improvements you want for your smile.
Your teeth will then be prepared for the procedure. At our practice, we have access to CEREC technology that can be used to create porcelain restorations directly in our office. We also have access to a dental lab for more precise needs. Once your custom-made veneers are ready, we will ensure they fit your mouth properly. Then we'll permanently bond them to your teeth for a dazzling new smile.
Ask Us How Veneers Can Improve Your Smile!
Call our team today with any questions you may have. If you think veneers may be the right thing for you, don't wait! Schedule a consultation with Dr. Della Bella now.